3 reasons NM hunting land is in demand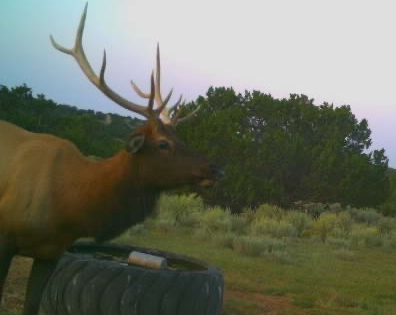 ONE/ Highly productive, affordable land is the norm.
You just can't beat the pristine, diverse lands and benefits New Mexico affords. A big part of what drives people to off-the-beaten path New Mexico is just how affordable it is for how productive and versatile the lands are. While the price of land skyrockets across the more popular Western frontiers and most of the country, you can still get sizeable, quality ranch and hunting lands throughout much of New Mexico.
While other parts of the country are experiencing a slowdown, farms, ranches, hunting and versatile productive properties in New Mexico aren't showing any sign of slowing or devaluing. It's still a very secure place to park your money.
And these lands are not the barren desert lands that may come to mind when you think of the Southwest. These are the true Wild West regions where ranching took root when the Spaniards first came over. Ranching and hunting remains prolific because the climates, native grasses, habitats, and landscapes are well suited to raising cattle, sheep, horses, and sustaining wildlife. These cattle & hunting ranch traditions carry on today, standing the test of time, now with the added bonuses of wells, pipelines, solar and wind energy, and many more advancements and incentives.
We see this region gaining more awareness as its becoming increasingly important for people to become self-sufficient, raise their kids in the outdoors, and experience a way of life out of the pressure cooker. Whether you're looking to build a secure future or a legacy, possibly for generations to come, New Mexico checks the right boxes for the forward-looking investor.
TWO/ Quality climate, year round.
Rather than "location, location, location" think "climate, climate, climate." That's because a pleasant year-round climate means… quality grazing, sunlight, nutrient-dense productive pastures, foliage, and wildlife friendly habitats. Year-round grazing plus hay production means the animals feed off your own land, year round, keeping overhead low.
Many of our NM ranches are ideally situated at elevations and climates in a moderate temperature zone. These properties experience temps within a zone that stays above freezing and below 90 most of the year. Of course there can be irregular temps, but they tend to be short lived. If it snows, it doesn't stick around for long, and heat waves are beat by heading into higher pastures. And as the sun heads down, temps tend to pleasantly cool down, too.
THREE/ World class hunting opportunities, in your back yard.
The hunting opportunities throughout New Mexico are truly unmatched. Besides the diverse, prolific, unique and exotic wild life, the permits, tags, and income earning opportunities are unsurpassed. You can get tags over the counter in many areas, and landowners can manage and hunt their own land, while selling permits and generating hunting income as well. We see established, prolific, well-managed wild game parks in many properties offering true trophy hunting opportunities and experiences.
If you want to learn more about the wildlife and hunting opportunities in NM, you may be interested in another feature article, "New Mexico Hunting Ranches Deliver!"
AND MANY MORE…Of course there are many more fantastic reasons to land in New Mexico, but we thought we'd get you started with the main highlights here.
Many of the Ranchline properties offer unbeatable hunting opportunities along with versatile production possibilities.
Explore our Site andGive us a Callwith your questions and for the inside scoop on the latest property possibilities. We look forward to saying hello!